App condition for MFA enrollment policies
You can set an app condition for end user applications in a multifactor authentication (MFA) enrollment policy. This allows you to prompt end users to enroll in MFA factors when they access any application, or selected applications.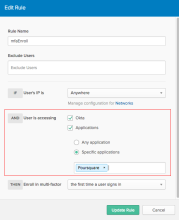 Notes:
Create a multifactor policy before you configure a rule with an app condition.
Apps that are based on OIDC, SAML1.1, SAML2, and SWA are supported.
All apps are supported except for Microsoft clients that use active mode authentication.
Microsoft Office 365 is supported.
Outdated Microsoft Office thick clients aren't supported.
See Configure an MFA enrollment policy to configure an app condition.
Related topics