https://platform.cloud.coveo.com/rest/search
https://support.okta.com/help/s/global-search/%40uri
https://support.okta.com/help/services/apexrest/PublicSearchToken?site=help
Preview
July 2019
2019.07.0: Monthly Preview release began deployment on July 11
* Features may not be available in all Okta Product SKUs.
Weekly Updates
2019.07.1: Update 1 started deployment on
July 17
Fixes
General Fixes
OKTA-212923
A deleted LDAP instance was still visible on the Profile Editor page.
OKTA-229606
In some cases, email notification settings for Helpdesk admins were not honored.
OKTA-237865
Using the System Log Advanced Filter feature generated errant rate limit events.
App Integration Fixes
The following SWA app was not working correctly and is now fixed
Applications
Application Updates
The following partner-built provisioning integration app is now Generally Available in the OIN as partner-built:
New Integrations
The following partner-built provisioning integration apps are now available in the OIN as partner-built Early Access:
SAML for the following Okta Verified applications
Good2Give (OKTA-233039)

InVision V7 (OKTA-227283)

PandaDoc (OKTA-236095)

Pathmatics Explorer (OKTA-236215)

QuestionPro (OKTA-236060)

Small Batch Learning (OKTA-237044)

Springer Link (OKTA-235129)

Viima (OKTA-235095)

VirtualPeople.ai (OKTA-236075)
SWA for the following Okta Verified applications
Angus (OKTA-233616)

Typography Hoefler and Co (OKTA-233903)
Mobile application for use with Okta Mobility Management (OMM) (iOS)
Citrix Netscaler Gateway (OKTA-227497)
Support for LDAP provisioning
With the addition of the following Provisioning Features, Okta's LDAP integrations now closely match the functionality already available to Okta Active DirectoryActive Directory (AD) is a directory service that Microsoft developed for the Windows domain networks. It is included in most Windows Server operating systems as a set of processes and services. Initially, Active Directory was only in charge of centralized domain management. (AD) integrations.
Create Users

Update and deactivate LDAP accounts

DN customization

Profile Masters
For more information, see Provisioning Features.
Configure Okta Device Trust for Native Apps and Safari on MDM managed iOS devices
Okta Device Trust for MDM managed iOS devices allows you to prevent unmanaged iOS devices from accessing enterprise services through browsers and native applications:
Note: This feature requires Okta Mobile 5.12 for iOS (or later), available in the App Store beginning February 1st.
For details, see Configure Okta Device Trust for Native Apps and Safari on MDM managed devices.
Admin console search
Admins can now use a quick search for the names of end users or apps. However you only see search results based on what you have admin permission to view. When the search results are presented, if the name or app you are seeking is listed, you can click on the item and be taken to the corresponding user page or application page. For details, see Admin console search.
Remove Duo from end user settings
Duo may now be removed from end user settings so that end user enrollment takes place only at sign-in, based on the configured MFA enrollment policy. For more information, see Configuring Duo Security.
LinkedIn IdP Creation Re-Enabled
Creation of LinkedIn Identity Providers has been re-enabled in all Preview Orgs. For more information, see Set up a LinkedIn app.
App condition for MFA enrollment policy
Admins can now use a new condition when setting a rule for an MFA enrollment policy. When this condition is configured, end users are prompted for factor enrollment when accessing all of their applications or only for those selected by their orgThe Okta container that represents a real-world organization. admin. For more information, see App Condition for MFA Enrollment Policy.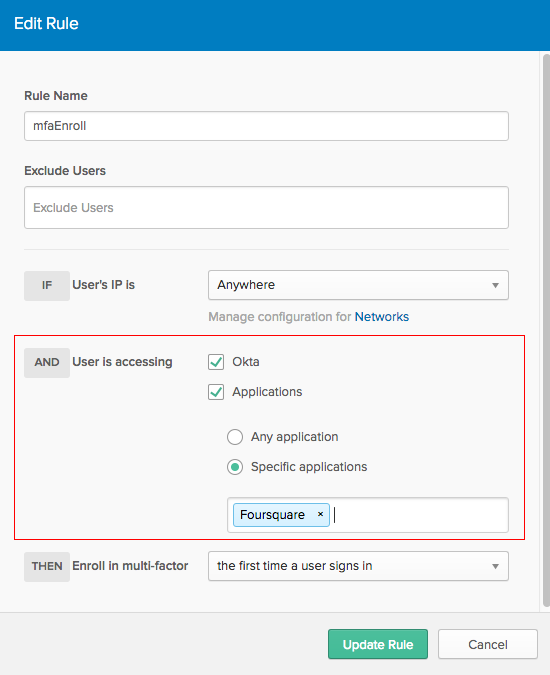 Okta Browser Plugin reflects real-time app and profile changes in the end user dashboard
The Okta Browser Plugin now reflects the real-time state of the end user dashboard, eliminating the need to refresh the dashboard for the plugin to reflect the latest app and profile changes. This feature is available on Okta Browser Plugin version 5.29.0 or higher. For more information, see About the Okta Browser Plugin.
Incremental import support for LDAP users
LDAP users can now take advantage of incremental imports, eliminating the need for full imports every time. Incremental imports improve performance by only importing users that were created, updated, or deleted since your last import. For details, see Install and Configure the Okta Java LDAP Agent.
Early Access features, auto-enroll
You can now opt to auto-enroll in all Early Access features, instead of having to enable them as they become available. For more information, see Manage Early Access features .
Identity Provider Discovery
Using Identity Provider Discovery and routing rules, Okta directs users to different identity providers based on certain criteria. These criteria include location, device, the app being accessed, the user's domainA domain is an attribute of an Okta organization. Okta uses a fully-qualified domain name, meaning it always includes the top-level domain (.com, .eu, etc.), but does not include the protocol (https)., and specific user attributes. For more information see Identity Provider Discovery.
Apps supporting incremental imports
Workday joins Active Directory and LDAP in the ability to run immediate, incremental imports. Okta strives to add this functionality to more and more provisioning-enabled apps.  This feature is currently only available for Preview orgs.
Note: To use this functionality, your org must also have the Workday Incremental Imports (ENG_PROV_WORKDAY_INCREMENTAL_IMPORTS) Early Access feature enabled.
Top