https://platform.cloud.coveo.com/rest/search
https://support.okta.com/help/s/global-search/%40uri
https://support.okta.com/help/services/apexrest/PublicSearchToken?site=help
Factor Sequencing
This Early AccessEarly Access (EA) features are opt-in features that you can try out in your org by asking Okta Support to enable them. Additionally, the Features page in the Okta Admin Console (Settings > Features) allows Super Admins to enable and disable some EA features themselves. feature can be enabled from the Early Access Feature Manager. See Manage Early Access and Beta features for more details.
Factor Sequencing allows an end user to sign in to their org by authenticating with various factors instead of using a standard password.
In this topic
---
Overview
---
Factor Sequencing supports Okta Push and other factors as the primary method of authentication. This feature is supported on Okta Mobile only if password is set as the first factor.
To configure and activate your factors of choice, navigate to Security > Multifactor > Factor Types from the adminAn abbreviation of administrator. This is the individual(s) who have access to the Okta Administrator Dashboard. They control the provisioning and deprovisioning of end users, the assigning of apps, the resetting of passwords, and the overall end user experience. Only administrators have the Administration button on the upper right side of the My Applications page. dashboard.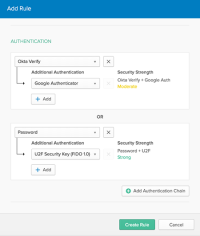 End-user experience
---
At Okta sign in, the end user is prompted to enter their ID to sign in.
After entering their ID and clicking Next, the end user must authenticate via one or more factors that have been configured by their admin as part of the sign on policy.
The end user can also select other factors in the sequence to authenticate via the factors listed in the dropdown menu.
Procedure
---
There are two steps to set up Factor Sequencing successfully:
Set enrollment policies for desired MFA factors
Define Okta sign-on policies
Set enrollment policies for MFA factors
From the admin dashboard, navigate to Security > Multifactor > Factor Enrollment to set the enrollment policies for the factors you have already activated for your users.
Verify that the factors in at least one factor chain is marked as Required for enrollment. For example, by defining the following two factor sequences in your sign on policy:

(a) SMS and Okta Verify

(b) Okta Verify and Security Questions

Your end usersIn Okta literature, we generally refer to "end users" as the people who have their own Okta home page (My Applications), using apps to authenticate into all of their apps. End users do not have any administrative control. When we refer to "users" we are generally referring to the individual(s) who have administrative control. are required to enroll in the sequenced factors (a) or (b) for successful authentication to take place.
Define Okta sign-on policies
From the admin dashboard, navigate to Security > Authentication

Authentication is distinct from authorization, which is the process of giving individuals access to system objects based on their identity. Authentication merely ensures that the individual is who he or she claims to be, but says nothing about the access rights of the individual. Authentication methods and protocols include direct auth, delegated auth, SAML, SWA, WS-Fed, and OpenID Connect.

> Sign On.
Select an existing rule or create a new rule for end users.
After selecting your rule criteria, scroll down to Authentication to define your factor sequences.
Once your changes are saved, authentication with factor sequencing will be made available to end users immediately.

Related links
---
Top