Access apps from
Okta Mobile
Browse and use the applications from your Okta Mobile home page.
Before you begin
If your organization uses Okta FastPass, you can't use Okta Mobile. To access your applications, go to the Okta Dashboard in the mobile browser, or tap Open dashboard in Okta Verify.
To check if you use Okta FastPass, open Okta Verify and tap your account. If Okta FastPass has a green check mark, your organization uses the Okta FastPass sign-in method.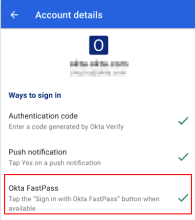 Start this task
Tap

Okta Mobile

on your device to open the app. Your applications are displayed in a tile view, similar to your

Okta

dashboard in the web browser on your computer.


iOS: Optional. Change the display to a list of applications. Go to the

Settings

menu.
Considerations:
Android: As a security precaution,

Okta

doesn't support downloading files or opening attachments from within

Okta Mobile

. You can open files that don't require saving to disk.
iOS: From your

Okta Mobile

dashboard, you can upload files from your device to any apps.
Related topics