Okta Mobile

considerations

Learn about Okta Mobile notices and exceptions.

If your organization uses Okta FastPass, you can't use Okta Mobile. To access your applications, go to the Okta Dashboard in the mobile browser, or tap Open dashboard in Okta Verify.

To check if you use Okta FastPass, open Okta Verify and tap your account. If Okta FastPass has a green checkmark, your organization uses the Okta FastPass sign-in method.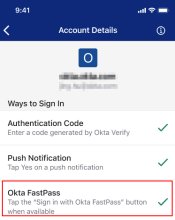 You must authenticate after prolonged

Okta Mobile

inactivity. If you haven't used

Okta Mobile

for more than 30 days, you are prompted to enter your

Okta

credentials when you eventually open

Okta Mobile

. This occurs because

Okta Mobile

relies on an internal token for authentication that expires after 30 days of inactivity. This token expiration is separate from PIN and MFA expiration occurrences.
On mobile devices, some apps require you to authenticate with the app itself.

Okta

provides one-click access to most supported apps. After signing in to

Okta

, you can access the apps on your device without having to authenticate with the app itself. Many apps provide a fallback authentication method so that you can access the app by entering your app sign-in credentials. Some apps still require you to enter your app credentials when you access them on your mobile device. If you encounter problems, contact your system administrator.
Apps in

Okta Mobile

open directly in the browser. If your administrator didn't enable

Okta

Mobility Management (OMM) for your organization, apps in

Okta Mobile

open directly in the browser when you long-press an app.
On Android devices, you can't download files from an

Okta Mobile

web browser. As a security precaution,

Okta

doesn't support downloading files or opening attachments from an

Okta Mobile

web browser on Android devices. This restriction minimizes malware threats. There are no restriction on opening files that don't require saving to disk.
You can rate

Okta Mobile

on iOS devices. On iOS devices, you are prompted to rate the app in the App Store. After clicking

Submit

, the

Okta Mobile

page opens in the App Store so that you can provide additional feedback. To dismiss this option, click

Not now

.
On Android 12, some features don't work if Okta Mobile is set in restrictive mode.
If you use Okta Mobile 4.21.0 on Android 11 or 12, you might not be able to access Play for Work. This message appears: "Play for Work is not available. Play for Work is still being enabled, please try again later." To resolve this issue, set up your work profile again.
Related topics