Okta Mobile
Okta Mobile is an app for iPads, iPhones, or Android devices. When you launch Okta Mobile, you get one-click access to all your applications managed by Okta. From Okta Mobile you can also enroll in Okta Mobility Management (OMM) if it's configured by your organization.
If your organization uses Okta FastPass, you can't use Okta Mobile. To access your applications, go to the Okta Dashboard in the mobile browser, or tap Open dashboard in Okta Verify.
To check if you use Okta FastPass, open Okta Verify and tap your account. If Okta FastPass has a green checkmark, your organization uses the Okta FastPass sign-in method.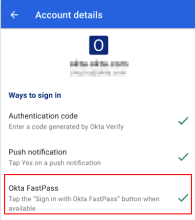 Topics
Related topics