Configure the
Okta Browser Plugin
Click the Okta Browser Plugin icon on the top right section of your browser to open the menu. Select the gear icon to configure how your browser interacts with the plugin.
You can configure the plugin to prevent your browser from saving passwords, to get password recommendations when signing up for services, or to initialize prompts to save your apps on the Okta End-User Dashboard.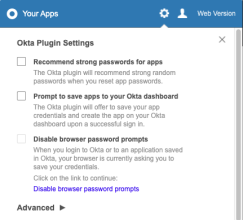 Recommend strong passwords for apps
The plugin recommends secure passwords when you register for new apps or reset app passwords.
Save apps to your
Okta

dashboard

The Okta Browser Plugin prompts you to save an app to your Okta dashboard when you manually sign in to an app or register for an app that is not already on your dashboard.
Prevent your browser from prompting to save passwords
You can prevent browsers from saving your sign-in credentials for Okta as well as for third-party apps accessed through the Okta End-User Dashboard. Preventing web browsers from saving this information increases the security of your accounts.
Note: For web extensions, the Okta Browser Plugin can't disable browser prompts for saving passwords if this permission is already managed by your organization's browser policy or another extension.

Scroll down to the

Disable browser password prompts

option.
Click the

Allow

button. The browser will display a prompt that the

Okta Browser Plugin

is requesting additional permissions.


Note: Steps 2-3 don't apply to Safari and Internet Explorer users. If you use Safari or Internet Explorer, scroll down to the Disable Browser Password Prompts option and use the toggle to enable the feature.





Click

Allow

on the browser prompt to confirm that you want to disable password prompts. The feature list now shows that the

Okta Browser Plugin

controls your privacy-related settings.


Click

Close tab

.
After you close the tab, go back to the Okta Browser Plugin Settings page to confirm that you successfully disabled your browser's password prompts.
Related topics