About application data stores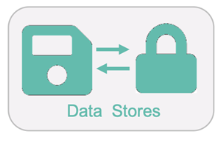 You can add, modify, delete, and manage data stores in the Access Gateway Admin UI console.
You can use data stores to:
Augment the

Access Gateway

session data using external data sources, such as a database or LDAP.
Support bi-directional synchronization between

Access Gateway

and external data sources.
Support databases, such as MySQL, MS SQL, Oracle, and Postgres.
Support LDAP, such as, any LDAP V3 compliant Active Directory, Oracle Internet Directory/Unified Directory, OpenLDAP, and others.